Hello and welcome to our Thrift Store Challenge for the month of June!
Here, a group of creative bloggers come together on the fourth Thursday of each month to share their lovely transformations of a thrift store item. Who doesn't love thrift store upcycle projects - whether it's actually creating one or admiring how an item from a thrift store was transformed!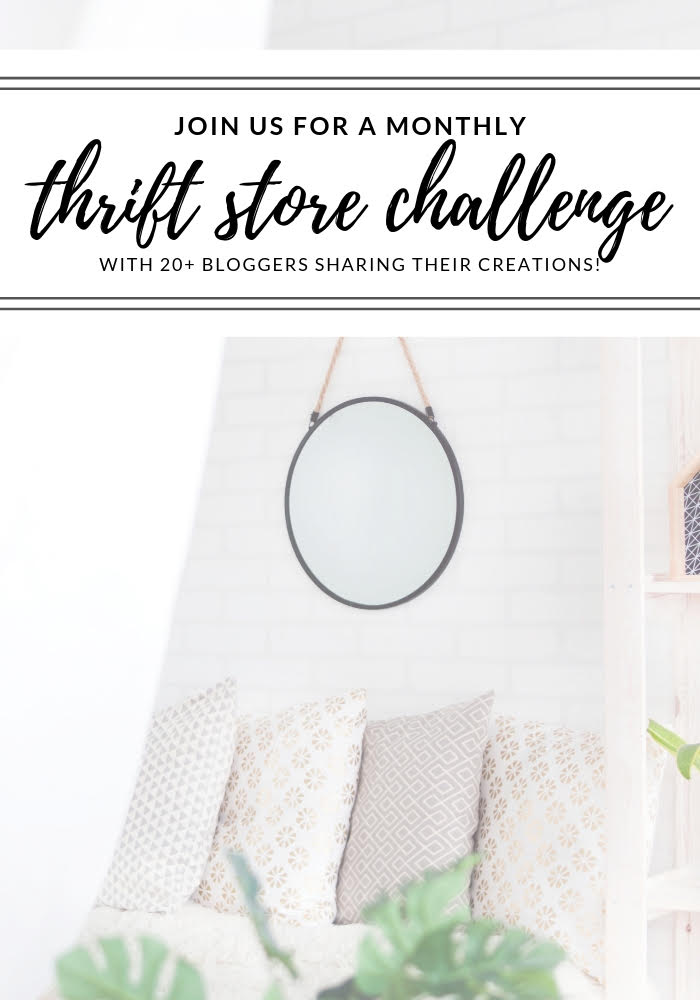 The Rules:
Upcycle an item(s) from a thrift store, resale store, or garage sale into a new piece of decor.

There's no monthly theme.

There's no budget to stick to.
Meet the Hosts:
Chas
|

Chas' Crazy Creations

-
Kathleen
|
Our Hopeful Home
Carmen
|
Living Letter Home
Make sure you follow our board on Pinterest for more upcycled decor inspiration!
This month was tough! I went to several thrift stores looking for something small to re-make. I had almost given up when I spotted a griddle pan. I remembered seeing a few fry pans transformed into wall clocks on Pinterest but really didn't want to tackle that. Since I had a lot of decorative napkins, I took the easy way out and decided to paint and decoupage the pan instead. Here's how!
Griddle pan

De-greaser/alcohol

Paint+Primer spray paint

Decorative napkins

Paint brush/water

Mod podge

Sandpaper

Polyurethane protective varnish sealer

Instructions:

Begin by cleaning pan with a de-greaser or

wipe down with alcohol after cleaning with dish detergent and water.

Next, spray on a paint+primer paint that will adhere to metal and plastics, on both front and back and let each side dry.

After drying, lay out napkin on top of pan for design placement and . . .

cut out the basic design pattern you want.

Next, take a wet paint brush and outline the area to be used.

Gently remove the wet areas with fingers for an uneven edge which will lay and blend in better than a straight edge.

Then, separate the printed paper layer from the plain layers by dipping finger in glue, tapping together with napkin in-between fingers at corner edge.

Next, the printed napkin needs to be glued down in small sections since it is thin, delicate and easily tears when wet with mod podge. To do this, position the printed portion of napkin on pan and lift up an end side to lightly apply mod podge over a small area of the pan.

Carefully, replace napkin on glue and lightly pat the napkin down smoothing out as you pat.

Continue applying mod podge in small sections and smoothing napkin out until entire napkin is applied. Tear out and glue-on additional napkin pieces to add to the design until satisfied with look. Also, be sure to decoupage the handle for a unique design.

Then, hang up pan to dry. Once dry, remove excess napkin using sandpaper on the edges. Apply a top layer of mod podge over the napkin once it's completely dry. And finally, seal with a protective varnish spray.

What a lovely decorative upcycle wall accessory for the kitchen!




And now for more thrifty goodness!
Check out what my fellow upcyclers created below!